Recent discouragement of charging electric vehicles (EVs) by officials in California in the wake of a severe heatwave prompted further research into power generation, EV charging needs and efficiencies as we move towards an "all-electric" future.
While there is a lot of research published on EVs already, with varying points of view, the picture of the future has been unclear. Here we look at published facts and the needs of EVs in the future. By leveraging published data from EIA.Gov, we know that the U.S. had 1.17 billion kW of total electricity generating capacity at the end of 2021. Using this infrastructure, we generated 4.17 trillion kWh of electricity. That is a lot of energy over the course of the year.
Moving over to the EV side of the equation, on average EVs need 0.346 kWH/mile excluding the charging loss, If we use all the power genera\ted in 2021 to power EVs, we will be able to drive 1.4 trillion miles. By comparing it to the cumulative estimate for the year at 3.228 trillion miles per FHWA estimates, we would have about 45% of the required energy at our disposal to meet the driving needs of the US population.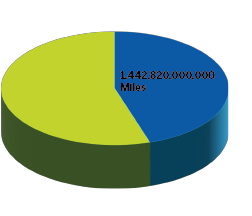 While investments continue to grow in power generation, distribution, and storage, we have a long way to go before we reach a 100% electric future. While the improvements in electric efficiency in the past 20 years has been nothing short of miraculous dropping from a high of .87 kWh/mile to as low as .24 kWh/mile, gains in reducing distribution and charging loss have been negligible.
The EV fleet estimated to be just under 0.5% of total vehicles in the US, the demand seems to be just under 27 million kWH in 2021. As the Electric fleet share increases to say 2% in the next few years, the daily demand for EVs should jump up to 117 million kWh per day which would be just over twice all solar generated power in 2021.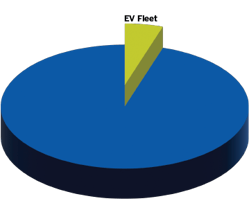 Keeping residential, commercial, and industrial demand constant, EV power requirements are on track to dwarf current trends without getting close to the share of the road we anticipate over the long term.
Per the EIA, the US can barely handle the 700 million kWh of required capacity for the month of July required for cooling the homes across the US, therefore requiring the request to not charge EVs during the peak hours. With the added capacity and improved distribution, this problem would either escalate or be resolved over time.