The National Association of Insurance Commissioners (NAIC) recently wrapped up its fall meeting in San Diego, Ca., where it celebrated its 150th Anniversary. It was a hybrid event with an estimated 1,200 people attending in person and another 1,800 virtually. AAIS Views caught up with our Manager Government Affairs and Compliance, Lori Dreaver Munn and AAIS VP of Memberships & Solutions Truman Esmond, who both attended in person to hear about some of the key themes and takeaways from the meeting.
Machine Learning & openIDL Make Splash
AAIS presented alongside Connecticut insurance leaders on Wednesday (Dec. 15) to showcase how we're using the latest technologies to improve the regulatory reporting process. AAIS uses machine learning/artificial intelligence tools to expedite the maintenance and updating of policy language that challenges both insurance carriers and regulators today. The presentation drew new interest from several states represented in the meeting, specifically California, Vermont, and Massachusetts. If you're interested in learning more, contact Lori Dreaver Munn.
Additionally, both Ms. Dreaver Munn and Mr. Esmond met with key stakeholders to talk about openIDL, a revolutionary blockchain/distributed ledger platform that improves regulatory reporting. They met with Sandra Darby, Chief Actuary for Maine, who is Chair of the NAIC Statistical Data Working Group and is representing Maine as part of openIDL's Regulatory Data Modeling Working Group. This is significant because her dual roles allow learnings from the openIDL working group to promote changes to NAIC statistical standards.
Hot Topics – Auto, Cannabis, DEI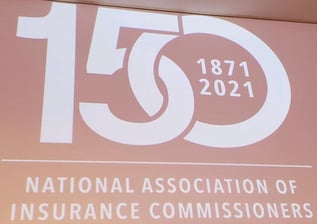 On the product side, cannabis remains a focus for state regulators. The Cannabis Insurance Working Group reported out that "there is now a broader focus on how policy is made with increased parity in regulations … social equity, restorative justice, and public health and safety are priorities."
The auto insurance market continues to be a tense topic as the commissioners from California and Washington expressed concern that they didn't have significant enough data from 2020 to understand the impact of COVID-19 on the auto industry. The states want this data to be able to understand if and how profits were impacted in order to control what are rapidly rising rates. For more on this, read the latest from AAIS Auto Product Specialist Meg Lech.
The (NAIC) released its first Diversity, Equity, and Inclusion (DE&I) Report. The report focuses on activities supporting NAIC's DEI Framework and sets the vision for the future to drive change and promote accountability throughout NAIC workplaces.
New Officers Elected and Committee Formed
Organizationally, the NAIC elected officers who have all been advocates and close partners of AAIS as it relates to our work with openIDL and machine learning.
President: Idaho Insurance Director Dean L. Cameron
President-Elect: Missouri Insurance Director Chlora Lindley-Myers
Vice President: Connecticut Insurance Commissioner Andrew Mais
Secretary-Treasurer: North Dakota Insurance Commissioner Jon Godfread
In other action taken, the NAIC created a new committee – the Innovation, Cybersecurity, and Technology (H) Committee. Their charge aligns with our goals at AAIS to leverage data and technology to evolve the regulatory space.